By the time you show your very first symptom of Parkinson's disease, 50% of the dopaminergic neurons involved in movement in the part of the brain affected by Parkinson's disease are already dead.
Click To Tweet
In 2011, right after leaving a dream job as a journalist, Max Lugavere realized his mother was starting to show early signs of memory loss.
Being in between jobs, he was able to accompany her on the quest of figuring out what was happening to her memory.  There was just one problem: Doctor's couldn't give them a definite diagnosis.
After countless doctor visits, they finally found a medical team that diagnosed her with neurodegenerative disease. They gave her medications for both Alzheimer's and Parkinson's because the exact variant of her disease was still unclear.
This life-changing diagnosis prompted Max to take matters into his own hands.
Instead of waiting for someone else's solution, he jumped into a years-long research about brain health, nutrition, and lifestyle, to try to understand the root causes of dementia and what he could do to help his own mother.
Max went on to become a brain food expert and famous health and science journalist and filmmaker.
He's also today's guest and in this episode he tells us what he found in his research, what he did to help his mother, and what we can all do to improve our brain function through nutrition.
One of his most interesting findings is how much our brains have changed from our hunter-gatherer days to agricultural society. The foods abundant in a Western diet interfere with the brain's protective mechanisms, making the incidence of dementia much more likely.
We essentially turned our backs on the diet that created the human brain, and over time our brains shrank, losing the volumetric equivalent of a tennis ball.
Click To Tweet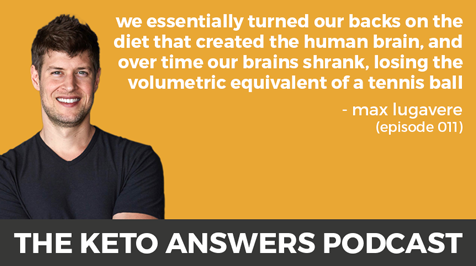 Luckily, he also found the type of nutrition that can help us protect and boost our brain function. In this interview, he talks about the effects of a ketogenic diet and specific nutrients and foods you should start eating if you want to prevent dementia.
You can learn more about his research and specific recommendations in his latest book, Genius Foods: Become Smarter, Happier, and More Productive While Protecting Your Brain for Life, which contains everything he's learned about brain health and nutrition throughout the years.
In this episode, we go over:
How a ketogenic diet can help prevent and reverse cognitive decline
The best nutrients to eat for optimal brain function
How to keep your neuronal membranes healthy
What you can do to protect your brain against neurodegenerative diseases
The culprit behind 40% of Alzheimer's disease cases
Genes vs environment: Their role in dementia onset
The difference between Alzheimer's and Parkinson's disease
Why people with Alzheimer's have a harder time sticking to a ketogenic diet
The link between cardiovascular and brain health
The link between gut health and Parkinson's disease
The relationship between body strength and brain growth
How inflammation and insulin resistance harm your brain
The 3 grains we eat the most (and why we shouldn't)
How vegetable oils are slowly killing you
Why the quality of the fat you eat matters so much
Why you probably don't need to eat breakfast
Why you should eat prebiotics and probiotics together
Max's favorite brain foods
Max's take on the carnivore diet
Keeping the lymphatic system healthy
If you enjoyed this episode, subscribe to the Keto Answers Podcast on iTunes to get automatic updates. Use Android? Click here to subscribe on Stitcher and here to subscribe on Google Play Music.
Mentioned in This Episode
More Resources