By restricting your calories, we are increasing our lifespan. We don't need as many calories as we thought we needed to survive.
Click To Tweet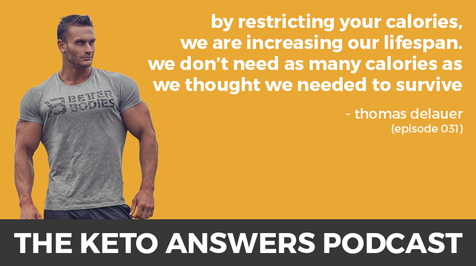 Only a few years ago, Thomas DeLauer weighed 280 lbs, didn't know about the ketogenic diet, and was putting his work above everything else in his life.
Back then, he had no idea he would go on to lose almost 100 lbs, appear in the cover of multiple health and fitness magazines, grow an uber successful Youtube channel or become one of the biggest names in the keto space.
Today, Thomas is one of the most-followed health and keto experts thanks to his videos, where he breaks down the science behind health topics into simple and actionable points.
Thomas' health journey started on his plate, except he didn't focus on calories, but on inflammation.
Instead of aiming for weight loss directly, Thomas used keto and fasting to dramatically reduce his internal inflammation, which helped him drop the extra weight naturally.
Not only that, but he started keto along with his wife to help her combat her own health problems too, which included Hashimoto's and Lyme disease.
Today, Thomas joins me to talk about keto, fasting, training in ketosis, food quality, and the fascinating research behind these.
You get to be what's called dual-fueled. And being dual-fueled can only happen when you're keto-adapted and in ketosis. You can't do the opposite. You can't go from glycogen and then be like 'ok, now I want to burn fat'
Click To Tweet
Thomas Delauer is a health and fitness expert and entrepreneur who has been on the cover of some of the largest fitness magazines in the world, including Ironman magazine and Natural Muscle Magazine.
He's also a leading keto expert and has one of the most popular Youtube channels about the ketogenic diet and health, with almost 800k subscribers.
If you're wondering what's the science behind intermittent fasting, why you may do fewer reps in ketosis, or whether choosing grass fed meat is really that important, Thomas will give you the answers.
In this episode, we go over:
How Thomas first got into keto
Thomas' health transformation
How Thomas did keto without dairy
How Thomas began making youtube videos
How Thomas breaks down complex nutritional science into simple and actionable advice for his viewers
The link between inflammation and weight gain
The #1 inflammatory marker you want to get down
The difference between intermittent and long-term fasting
Why eating fewer calories helps us live longer
What happens to your body during and after a fast
Why fasting actually helps build muscle mass
Thomas' approach to fasting
Thomas' training routine
Why Thomas prefers to keep his training sessions short
How training changes when you're keto-adapted
Why you always need glucose and glycogen, even in ketosis
Why your body stores glycogen more efficiently in ketosis
What being dual-fueled means and how it enhances training
Why you should avoid overtraining
Why it's important to define why you're training
The types of protein Thomas prefers
How Thomas chooses which fats to eat and when
Why we should start looking at fats the same way as carbohydrates
The difference between long-chain, medium-chain, and short-chain fatty acids
Why Thomas combines long-chain fatty acids with MCTs
What the "keto wall" is
How to reach a healthy ratio of omega 3 to omega 6
Omega 6-filled foods to avoid
Why eating grass fed meat matters
How Thomas approaches eating out
If you enjoyed this episode, subscribe to the Keto Answers Podcast on iTunes to get automatic updates. Use Android? Click here to subscribe on Stitcher and here to subscribe on Google Play Music.
Mentioned in This Episode
More Resources