If two partners aren't on the same page with buying high quality foods, spending money on organic and healthy cosmetic products, and the list goes on and on — I can see that being a point of frustration
Click To Tweet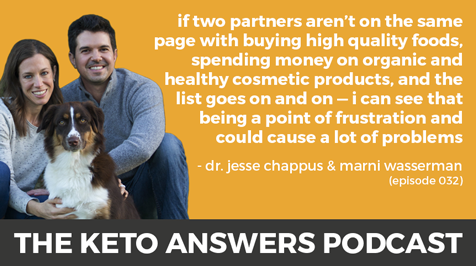 The people you spend the most time with are the ones who influence you the most.
That's great news when those around you have healthy habits and support you in your health journey, but bad news when they don't.
Anyone who's tried to start a new exercise habit or diet knows how tough it is to stick to it when your partner, family, or friends are not on board with it.
When you're trying to cut processed food from your diet and your husband or wife keeps putting cereal and cookies in your shopping cart, positive change can be hard.
Having emotional support is essential when you're trying to make any upgrade in your life — from quitting sodas to going on a fat loss diet.
So how can you find that support or get it from your current relationships?
Today I'm joined by two guests who cracked the code: Dr. Jesse Chappus and his wife Marni Wasserman.
Jesse and Marni met through their passion for health and food. He was a chiropractor while she was a holistic nutritionist and chef with a successful food studio.
Just a few months after they started dating, they decided to launch a health podcast together to share their passion for health and wellness with others.
Now they co-host the uber-successful The Ultimate Health Podcast full-time, have quit their jobs, and own a successful online health business.
I spent a few years being a vegetarian. I felt great, until I suddenly didn't. My body started to shift, I started to notice discomforts in my stomach, I was having gas and bloating, I was having all kinds of irritations in my body.
Click To Tweet
In today's episode, they share their individual health journeys, how to find the emotional support you need to reach your health goals, how they found that support in one another, what it's like to run a business as a couple and a lot more.
In this episode, we go over:
How Jesse started his health journey and became a chiropractor
How Marni started her health journey and became a chef and holistic nutritionist
How Jesse and Marni met and why it worked out
Why Marni stopped being a vegetarian, how she eats now, and how her health has improved after reintroducing animal foods
Why having self-awareness of who you want to be is key for finding relationships that support you
Why having the same priorities is important in a relationship
Why and how they launched their health podcast
Jesse's shift from clinician to online entrepreneur
Why Marnie decided to close her food studio and focus on the podcast
How Marni and Jesse handle running a business as a couple
How their approach to the podcast has changed over the years
How their life has changed after focusing on their business full-time
How they've built an online community that supports them
The top 3 things they focus on to grow their podcast
Jesse and Marnie's 6 pillars of health
Why water quality matters and how they purify their water
Jesse and Marnie's tips for better sleep and self care
Their favorite podcasts
If you enjoyed this episode, subscribe to the Keto Answers Podcast on iTunes to get automatic updates. Use Android? Click here to subscribe on Stitcher and here to subscribe on Google Play Music.
Mentioned in This Episode
More Resources